Vāta Pacifying Diet
Vāta dosha consists of the elements of air and ether and therefore has the qualities of being dry, rough, mobile, subtle, hard, cold, and light. People prone to vāta aggravation or vāta related disorders will experience symptoms related to these qualities. Therefore, in order to balance and pacify the aggravated vāta dosha, one should construct a diet containing opposite qualities, that is energetically warming and grounding.
When working to balance vāta dosha one should favour a diet of warm, cooked, fresh foods that have a soft and smooth texture, seasoned with warming spices. These foods will lubricate and nourish the bodily tissues, retaining moisture and warmth to calm vāta and support the digestive system and healthy elimination.
Qualities To Favour
Warm – both in physical temperature and post-digestive energetic effect (for example, using warming spices such as ginger). Try to avoid the consumption of cold, raw and hard foods. These increase the aggravated quality of vāta as well as putting strain on the internal systems. To be avoided: cold drinks (especially carbonated drinks), large quantities of raw fruits and vegetables, left-overs that have been kept in the fridge (even if they are re-heated), cooling herbs.
Moist/Oily – vāta is dry and rough in nature, so to counter-act this it is important to consume foods that are hydrating. Cooking foods with high-quality oils or ghee and consuming warm drinks (not drinking anything cooler than room temperature) are good vāta-pacifying practices. Moist and oily foods are also supportive (such as avocado, nuts, dairy etc.), as well as avoiding rough and dry foods e.g. popcorn, rice cakes, crackers, dried fruit etc.
Grounding/Nourishing – in opposition to vāta's lightness and the air element, the importance of choosing grounding and denser foods is tantamount. This does not, however, mean heavy, greasy foods that are taxing on the delicate vāta digestive system. Generally, the foods that provide the most nourishment and stability are sweet in flavour (think earthy sweet potato sweetness rather than sugar). Foods that come from the earth are, by their very nature, grounding, so root vegetables are an excellent example of vāta pacifying foods. Stimulants are the antithesis of groundedness and therefore should be avoided (e.g. caffeine, alcohol and nicotine).
Smooth – think warm milk, porridge, pureed soups etc. as opposed to raw and rough foods that would intensify symptoms of vāta.
Tastes to Favour
| | | | |
| --- | --- | --- | --- |
| FAVOUR | | AVOID | |
| Sweet | Fruits, most grains, root vegetables, milk, ghee, yoghurt, nuts, seeds, most oils – these foods tend to be grounding, nourishing, strength-building and satisfying | Pungent | Chillies, radishes, turnips, onions, many spices – hot, dry, rough and light |
| Sour | Lemon, lime, vinegar, kimchee, sauerkraut, miso, cheese, sour cream, sour fruits – usually is not the main flavour of a meal but is used to highlight other elements – supportive to the digestive system and promotes energy | Bitter | Bitter greens such as kale, dandelion greens and collard greens; bitter melon, Jerusalem artichokes, burdock root, aubergine, chocolate – cooling, rough, drying, light, depleting |
| Salty | Rock salt, sea salt, Himalayan salt etc. – however, please be aware that much western food is already very heavily over salted, therefore be moderate in use of salt in home cooking – stimulates appetite and digestion, retains moisture, supports proper elimination. | Astringent | Basically a flavour of dryness (chalky taste in the mouth like biting into an unripe banana): legumes, apples, cranberries, artichokes, cauliflower, lettuce, rye, rice cakes, crackers etc. – cold, heavy and rough in nature |
Vata Pacifying Food List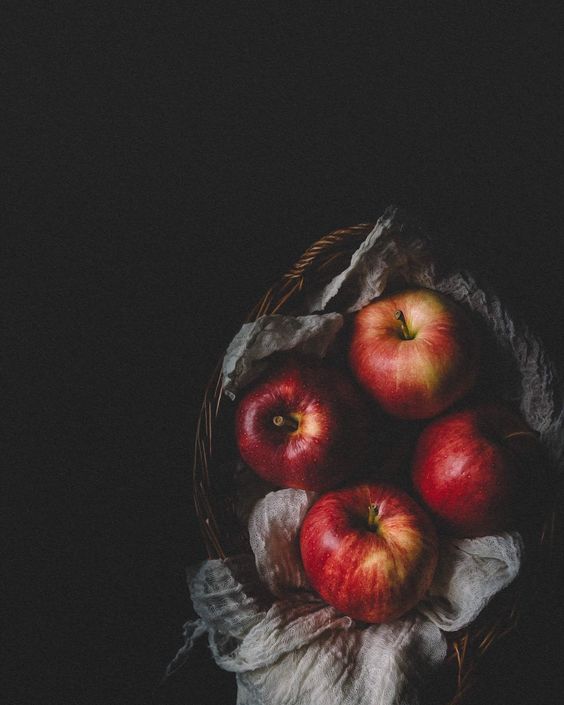 Fruits
Fruits that pacify vāta dosha are sweet and nourishing in general. While some fruits can be eaten raw, many are more nourishing and easier to digest when cooked and spiced. Any fruit that is rough, drying, or cooling is best to be avoided.
** It is important to note that fruits are best eaten in isolation – an hour before or after any other food in order to optimise the digestive process.
Apples (cooked)
Apricots
Bananas (ripe)
Berries
Cherries
Coconut
Dates
Figs (not dried)
Grapefruit
Grapes
Kiwi
Lemon
Lime
Mango
Oranges
Papaya
Peaches
Pineapple
Plums
Prunes (cooked or soaked)
Raisins (cooked or soaked)
AVOID


Apples (raw)
Bananas (green)
Cranberries
Dates (dry)
Dried fruit
Pears
Persimmons
Pomegranate
Watermelon
Vegetables
Choose veg that is generally sweet, moist, and cooked. Root vegetables are particularly supportive as they are extremely grounding in nature and therefore stabilising for vāta. Avoid the consumption of raw, dry, rough, and cold vegetables. Oil dressing and digestive spices are supportive vegetable additives.
FAVOUR
Asparagus
Avocado
Beets
Carrots (cooked)
Chillies (in small quantity)
Corriander
Courgette
Cucumber
Garlic
Green Beans
Green Chillies
Leeks
Mustard Greens
Okra
Olives (black)
Onion (cooked)
Parsnip
Peas
Pumpkin
Sweet Potato
Spinach (cooked)
Squash
Watercress
AVOID

Artichokes
Beet Greens
Bell Peppers
Bitter Melon
Broccoli
Aubergine
Brussel Sprouts
Burdock Root
Cabbage
Carrots (raw)
Cauliflower
Celery
Corn
Dandelion Greens
Jerusalem Artichokes
Kale
Kohlrabi
Lettuce
Mushrooms
Olives (green)
Onion (raw)
Potatoes (white)
Radishes
Spinach (raw)
Sprouts
Tomatoes
Turnips
Grains
Sweet, nourishing and easily digestible grains should be favoured. Cooking and spicing grains will increase the smooth, sweet and comforting nature that is vāta pacifying (e.g. porridge, rice pudding, cream of wheat). Try to avoid grains that are heavy, light, dry, or rough.
FAVOUR

Amaranth
Durham Flour
Oats (cooked)
Quinoa
Rice
Seitan
Sprouted Wheat
Wheat
AVOID

Barley
Buckwheat
Cerealy (dry, cold, puffed)
Corn
Couscous
Crackers
Granola
Millet
Muesli
Oat Bran
Oats (dry)
Pasta
Rice Cakes
Rye
Spelt
Tapioca
Wheat Bran
Yeasted Bread

Legumes
In general, legumes are aggravating for vāta, however there is a narrow selection that, when well-cooked and seasoned, can be consumed. These are the legumes that are a little less dense, rough, and dry. Well-cooked and easily digestible legumes can be a good source of nourishment and a sense of grounding. However, the majority of beans are too dry, hard and rough for the delicate vāta digestion.
FAVOUR

Lentils (red)
Miso
Mung Beans
Mung Dal (split)
Soy CHeese
Soy Milk (warm)
Soy Sauce
Tofu (hot)
Tur Dal
Urad Da
AVOID

Adzuki Beans
Black Beans
Black-eyed Peas
Chickpeas
Kidney Beans
Lentils (brown)
Lima Beans
Navy Beans
Pinto Beans
Soy Beans
Soy Flour
Split Peas
Tempeh
White Beans
Dairy
Dairy products, on the most part, are balancing for vāta as they are sweet and nurturing, especially if served warm with digestive spices (e.g. cinnamon spiced milk). However, one must try to always avoid highly processed milk and chilled dairy products.
Similarly, to fruits, dairy is best eaten in isolation, an hour before or after consuming other foods.
If you are vegan or find dairy difficult to digest, nut milks are a good alternative.
FAVOUR

Butter
Buttermilk
Cheese
Cottage Cheese
Cow's Milk
Ghee
Goat's Milk
Fresh Yoghurt
AVOID

Frozen Yoghurt
Powdered Milk
Homogenised or Ultra-pasteurised Cow's Milk
Nuts and Seeds
All nuts and seeds are vāta pacifying when eaten in moderation. They are highly nutritious, full of beneficial oils, proteins and fats. They can be quite heavy so moderation should be observed.
FAVOUR

Almonds
Brazil Nuts
Cashews
Coconut
Hazelnuts
Macadamia Nuts
Peanuts
Pecans
Pine Nuts
Pistachios
Pumpkin Seeds
Sesame Seeds
Sunflower Seeds
Walnuts
AVOID

Popcorn

Oils

Most oils are beneficial for vāta as the counter the dry, rough qualities of the dosha. However, it is of the utmost importance that the oils you use are of a high quality. Toxins concentrate themselves in fats, so finding a trusted source is vital.





FAVOUR

Almond Oil
Avocado Oil
Castor Oil
Coconut Oil
Ghee
Mustard Oil
Olive Oil
Peanut oil
Safflower Oil
Sesame Oil
Sunflower Oil

AVOID

Canola Oil
Corn Oil
Flaxseed Oil
Soy Oil




Sweeteners

Natural sweeteners are very good for vāta pacification, however it is important to avoid refined and highly processed sweeteners. Replace white sugar with dates, maple syrup etc.

**Honey is interesting as, although it tastes sweet, it is astringent in nature and therefore can be depleting if used in excess.





FAVOUR

Barley Malt
Date Sugar
Fructose
Honey (raw)
Jaggary
Maple Syrup (in moderation)
Molasses
Rice Syrup

AVOID

Artificial Sweeteners
White Sugar
Heated or Cooked Honey



Spices

Spices are excellent for vāta dosha, aiding the digestive system and warming the body. Just ensure not to use excessive heat (chilli, cayenne etc.).





FAVOUR

Ajwain
Allspice
Anise
Basil
Bay Leaf
Black Pepper
Caraway
Cardamom
Cinnamon
Cloves
Coriander
Cumin
Dill
Fennel
Garlic
Ginger
Hing/asafoetida
Mace


Marjoram
Mint
Mustard Seed
Nutmeg
Oregano
Paprika
Parsley
Peppermint
Pippali
Poppy Seeds
Rosemary
Saffron
Salt
Tarragon
Thyme
Turmeric
Vanilla

IN MODERATION

Cayenne Pepper
Chili Powder
Fenugreek
Horseradish
Neem Leaves

IN