Life, Loss, and Lovage...
An Update from the Garden
So, it's been a while since I last posted. Mainly because I've found the development of a garden to be an all-consuming exercise in both philosophy and an odd sort of anthropological study of motherhood.
Once we had cleared the first of the beds, I wasted no time in planting almost a hundred starter plants. The weather was testing my nerves, as the sun was beating down on poor, stressed. transplanted roots. The race to get my babies (for as soon as the box of baby veggies were delivered the maternal instinct immediately kicked in) into the soil with a nice drink. Rows upon rows of salad greens, kales, khol rabi, beets, pak choi, and an assemblage of peas and beans were hastily nestled into the meticulously toiled earth. Tipi's and bean sticks were collected and constructed.
There was a scary moment where I almost gave the mustard up as a lost cause. It sulked forlornly for days before reaching its purple lacy frons towards the sky. (They are now by far the biggest salad leaf in the garden).


I feel protective over my plants. I feel this weight of personal responsibility for their welfare, for their fate. Nature has been harsh to my little transplant babies. Scorching heat and drought that Yorkshire certainly isn't accustomed to. I found myself in the garden at all hours of the day from sunrise to sunset. I was seized by this frustration of helplessness. I wanted so badly to give these veggies the best start I could - yet other than watering (sometimes with a little liquid seaweed) and pulling up the few tiny weeds that reared their heads, there wasn't a whole lot I could do for them. I even built little earthen barricades around the veg to encourage a more efficient means of watering (creating a sort of moat so the water gets directly to the roots rather than just being spread thinly all over the place - good for water conservation in drier times). I sang mantras to them as I watered. I did my morning meditation next to the patch. All in an effort to encourage healthy growth.
And it was working! I mean, it seemed like things were growing, beginning to take root, look a little healthier. The mustard soon became the most majestic creature in the bed, his acid green stems opening into ornate deep purple detailing. The beet greens were growing strong. The lettuce leaves and spinach started to perk up and the brassicas seemed hardy as ever.
At one point I noticed that the buds of small flowers were beginning grow in the centre of the pak choi plants. This is a sign that the plant is going to seed, essentially preparing to die off. I quickly nipped all of these buds off, removing them completely, to encourage the plant to continue growing. This is not an unusual occurrence for plants that have endured a lot of stress by being transplanted. The good news is that they now appear to be growing nicely.

We endured a few wind storms and some intense heat. The peas were just devastated. No amount of watering and careful intertwining of pea sticks could make them happy. It is a known fact that peas are sensitive and dislike being transplanted, so I knew going into this that there was a risk the peas wouldn't cope. However, I fought and fought for them, sadly to no avail. I finally had to accept the inevitable. It was out of my hands. The peas just weren't to be this year. This left me a little deflated. My dreams of a flood of mangetout and sugarsnap now thwarted.
One thing, however, managed to perk me up. Over in the corner, a giant fragrant leaf was reigning supreme in the garden. An old lovage plant. He reappears year after year and this year he has arrived in very stately proportions. So, to lick my wounds and move on from the pea ordeal, the lovage is finding its way into soups, salads, and even cordials.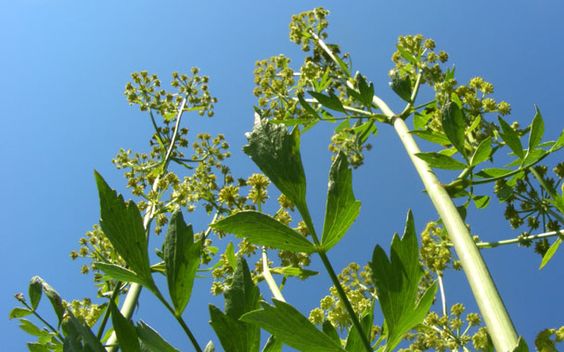 So I'm attempting to let it go. Not to be too attached to my baby plants and have more of a philosophical outlook that whatever will be will be. I do my part, the plants do theirs, and the rest is out of our hands. Now I can sit, watching the evening sun make its move across the garden, lovage scented beverage in hand, and exhale. There is a contentment that comes with accepting the role of servant rather than master. Of shedding the weight of responsibility for any set outcome and instead just taking one step at a time to support nature doing what she does best.